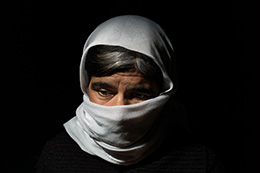 Nahr will be running an intensive programme during the two day workshop, including editing, individual and group discussions, and a presentation of his approach to photography. The aim of the workshop is personal access. Understanding situations and entering your subjects' world, physically and emotionally, allows for the most intimate access, which will reflect in your images. Obligatory practical phases, during which Nahr will also offer individual counselling, are planned to help put theory into practice.
We will be dealing with:
– researching and planning a theme
– choosing the right narrative approach
– entering your subjects' world
– images that convey content as much as emotions
– focussed editing
Workshop Schedule:
Saturday
• Dominic Nahr will present his work and tell the stories behind
the pictures and how he got access and produced them. 
Photographing in War Zones
• Participants present themselves and their portfolio to get
to know the style of the individual photographers.
• During Lunch: Review, critique and tips: Looking for the right
subjects, light and compositions.
• Each participant, discussion of what can make a good scene
or story. Decisions on who shoots what.
• Out and about in Salzburg: Shooting our stories.
• Return and download and select your best images
Sunday
• Review of raw images shot Saturday afternoon and make a tighter
• edit and group discussion
• Out and about in Salzburg. 1 on 1 discussion for portfolios
while others shoot
• Late Lunch and final selection of 8-12 images per student
Biography:
Dominic Nahr (Switzerland, 1983) was raised
in Hong Kong and graduated with a BFA from Ryerson University's photography programme. He is based in Nairobi, Kenya. Nahr's work has been featured in TIME, The New Yorker, National Geographic Magazine, Wired, Outside Magazine, The Wall Street Journal, Stern,
Neue Zürcher Zeitung and Schweizer Illustrierte, amongst others.
In 2009, Dominic received the first Oskar Barnack Newcomer Award and exhibited at Visa pour l'image in Perpignan.
The following year Dominic was selected to take part in the Joop Swart Masterclass sponsored by World Press Photo. He was recognised for his work covering events in Sudan by World Press Photo in 2013 and in Egypt, Somalia and Sudan by Pictures of the Year
Awards in 2012 and 2013. In January 2015, he was named Swiss Photographer of the Year in Zurich and in May 2016 was selected for the Marty Forscher Fellowship Fund.
Ort: Leica Galerie Salzburg, Gaisbergstraße 12, 5020 Salzburg
Datum: 25.06.2016 – 26.06.2016
Der Workshop wird auf Deutsch & Englisch gehalten

Teilnehmerzahl: Mind. 6, Max. 12
Preis: 430,00 Euro
Für Rückfragen oder Interesse stehen wir gerne für Sie zur Verfügung. Alle Bilder, aller Ausstellungen, können auch nach Abschluss der Ausstellung käuflich erworben werden.